This scaling type is typically used for maps. Input values are limited to -360 < x < 360 and -85 < y < 85, where x is longitude in degrees and y is latitude in degrees. (DPlot will force the Amplitude Limits setting on for Mercator Projection and set the limits to +/- 85, so your input may contain latitudes outside those limits, that data will just be ignored.)
Although any number format may be used with this scaling, it is designed for Degrees, Minutes or Degrees, Minutes, Seconds and has no practical value for other formats.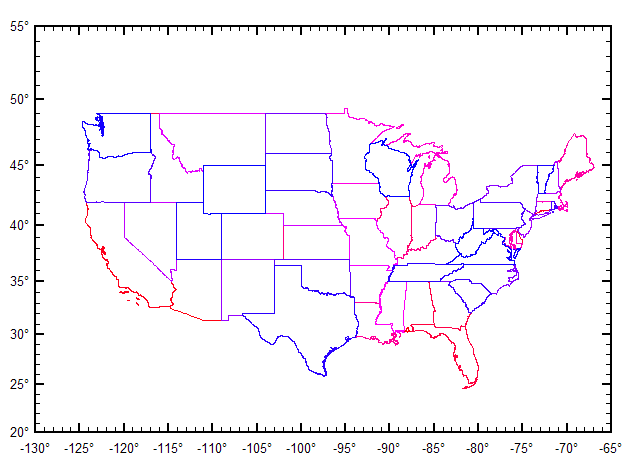 The vertical axis with this scaling is increasingly stretched out at higher latitudes. This scaling was originally made popular by its ability to represent lines of constant true bearing as straight line segments.
DPlot will automatically amend either the width or height of the plot such that the correct scaling is used. It will make this change, if necessary, regardless of whether the Specify size option of the Extents/Intervals/Size command is used. For predictable results with this scale type, use Extents/Intervals/Size, check the Specify size option and enter the desired width and height of the plot, then click the Set X:Y=1:1 button.
Although DPlot will display longitudes as expected (-200° is displayed as 160°, for example), on input the data will be drawn with decreasing x values (longitudes) to increasing x values from left to right. Therefore if your map crosses longitude 180° and your input longitudes are positive in the Eastern hemisphere, negative in the Western hemisphere (as is standard practice), you will need to modify the longitudes for the map to be drawn correctly. This is easily done with the Operate on X command on the Edit menu with, for example, X=IF(X>0,X-360,X).